Best Ways to Install Driveway Pavers in Passaic, NJ.
A paver driveway will increase your property's value and boost your curb appeal. Regarding driveway pavers, there are many options in terms of style, color, laying pattern, and overall design. At NVN Paving Passaic, NJ, our ultimate goal is to create a beautiful entrance to your premises that is durable to withstand any heavy traffic without getting any damage.
Styles for Driveway Pavers
When it comes to driveway paver styles, the first decision to make will be based on whether you want a porous or impervious driveway. There are several benefits to installing a permeable driveway. Water will never get stagnant on the surface, and also we offer an advanced system where we install a heating system beneath the pavers to keep snow from piling up. Several driveway pavers in Passaic, NJ, can be installed as absorbent or waterproof. It is up to the client to make a choice. The second thing to decide is whether to go with a stone-textured look, traditional or contemporary face. We offer multiple paver styles in all these categories. We also use porcelain pavers to develop an ultra-contemporary look, which requires a concrete base to support heavy traffics. Contact us for more information on driveway paver styles.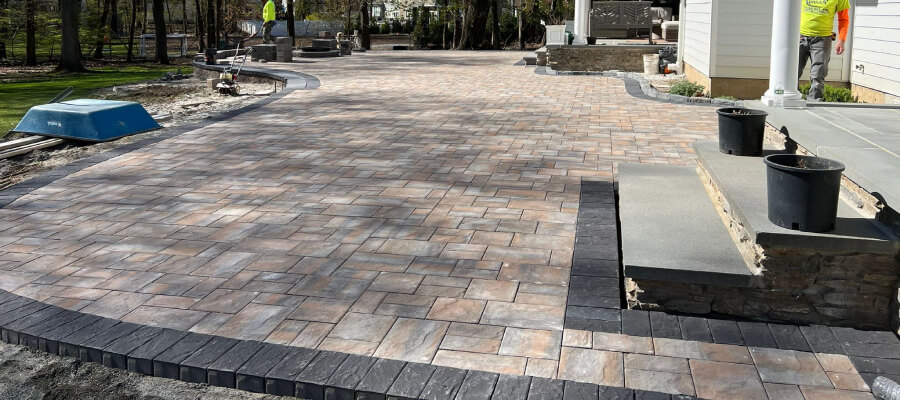 Laying Driveway Pavers in Passaic, NJ
Choosing pavers for your driveway project has many patterns and design options. Nowadays, many ways are popular and used because of their good looks and durability. Below are some of the designs installed by NVN Paving Company in Passaic, NJ;
Circular pattern
This pattern is achieved by installing the paver rows in a circular formation. Although this pattern leaves small spaces in between, we eventually fill them with mortar or sand. Also, this pattern can be intermixed with other designs to look the best.
Herringbone pattern
In herringbone patterns, the pavers are laid in alternate directions, creating a V shape. The herringbone pattern has a solid visual effect and adds character to any outdoor space.
Running bond pattern
This is the most popular pattern used by many homeowners today. This is because it is easy to install and uses less waste than other designs. It is laid side by side, creating illusions with solid linear lines.
Other patterns installed by NVN Paving are; the European fan pattern and basket weave pattern. When choosing a pattern, always be careful, as it will significantly impact your outdoor living space.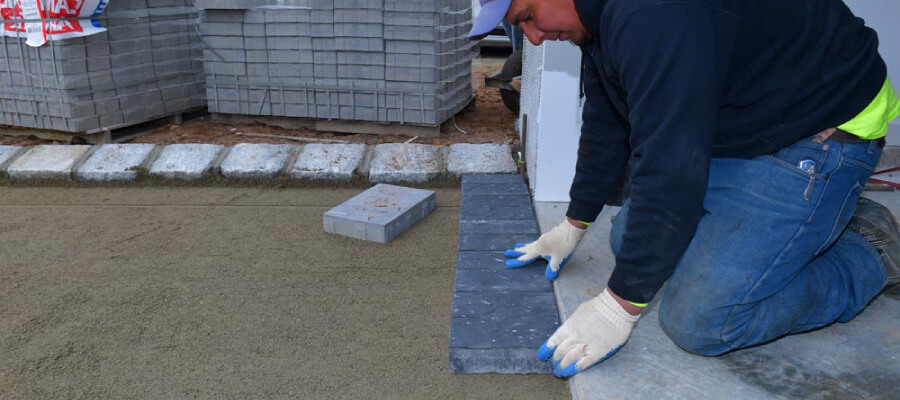 How to install Driveway Pavers in Passaic, NJ
At NVN Paving, we ensure that all our clients are well-educated regarding driveway paver thickness and base because this determines the durability of any driveway. An excellent residential concrete slab driveway without foundation cracks can be laid with 30mm thin pavers. If there is a possibility of shifting soil, we advise our clients to DriBond the perimeter and sand set the primary paver fields. This adds 2.5 to 3 inches of elevation to the previous slab. Most driveways have been installed using 80mm pavers with a standard 6″ base. Also, we provide another option for our customers to use a lighter 60mm paver with a thicker base. Contact us today to get more information.
Different Paver Choices and Options
Nowadays, many homeowners like to choose driveway paver colors that are similar to or match their home roof colors, either for the primary paver field or in a border. Regarding walls, they can be created using the same paver in a different laying pattern or color. Another decision one has to make is on the paver shapes, texture, color, or style for the border. Also, we create double walls and customize frames to our clients needs.
Using Driveway Paver Embellishments.
For any driveway owner, you deserve unique touches to your paver driveway. Focal points can be made using pattern embellishments. The main focal points include the garage apron, the driveway entrance, and the carriage drop. A circle kit can add character to the paver driveway, creating a classic focal point. Also, we make contemporary focal points using rectangles or squares. Don't hesitate to contact us today to learn more about our services.